How I Turned My Orchid Greenhouse into an Orchid Shadehouse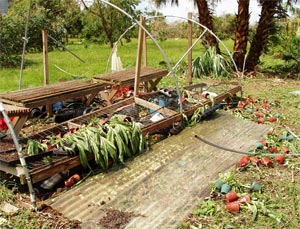 The remains of my orchid greenhouse after Hurricane Charley blew through Punta Gorda
In the late 1990s, my father and I were trying to grow young lychee trees from airlayers, and decided we needed a greenhouse to protect them from the cold winter mornings. We bought a cheap 20' x 12' greenhouse from a guy near Brooksville, Florida. The kit consisted of metal bows and straight tubes and fittings, and a plastic cover with PVC clips to hold the plastic to the frame.
It worked pretty well, but the plastic was no match for the Florida sun. Within a year, it became so stiff that it would shatter in the breeze. We bought clear fiberglass greenhouse panels and screwed them onto the frame. It worked fine for the young lychee trees. They didn't freeze to death until I moved them outdoors, but that's another story.
Greenhouse Too Hot for Orchids
We were running out of space for Calanthe vestita orchids, and decided the greenhouse would be a good place for them the next winter. It was nice having all that room for the orchids, and reclaiming my porch for the humans. The orchids did great until late that Spring, when they started to have strange and fatal problems. I tried all kinds of things, and lost well over 100 orchids in the process, before I finally decided to just move the survivors back to my porch, where it would be easier to care for them. As soon as I moved them, they recovered and were fine. The greenhouse had simply become too hot for the orchids.
I got a bunch of guys together, and we moved the greenhouse out of the sunny spot and under the southern edge of a large oak tree. The location proved ideal for orchids, and I had hundreds of Calanthe vestita and Calanthe rosea bulbs, along with some bamboo orchids, cigar orchids, and some Nun's orchids (Phaius tankervilliae).
I still have quite a few, but many were destroyed when Hurricane Charley shredded the fiberglass greenhouse panels and knocked down the giant oak tree. With no good shade to protect them, some of my orchids which did not perish in the hurricane later died just because I did not have a good place for them to grow.
Making an Orchid Shadehouse
After the hurricane, my friend Phil had suggested that I salvage the metal frame for the greenhouse, which was largely undamaged. It occurred to me that if I put wood lattice on the greenhouse, covered it with plastic screen, and set it out in the sun, it might not be a bad place for orchids. It has worked well. The plants would like a bit more light, but it does not get too hot in there, and they are largely protected from insects, squirrels, and birds.
I water and fertilize my orchids by hand, but I plan to add an automatic irrigation system to the greenhouse. The east wall has hanging planters, and I will install sprayers to cover them with mist. The west side has my orchid benches, and I will install lead-weighted drippers for the terrestrial orchids which I keep in trays holding 15 pots each. I also have a couple of Bizen pottery display trays made by my brother for my best Calanthe orchids, and those will get irrigation drippers as well. With an automatic timer for the drippers and another one for the sprayers, I can cut down on the time spent manually watering the orchids.