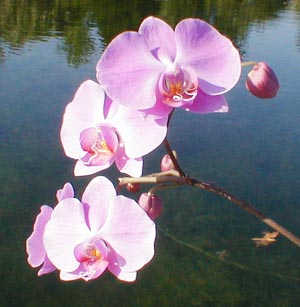 Orchids and More From Tom
I love to be outdoors, especially on the water, and I like to grow tropical fruits and orchids. This web site is my spot to talk about boating, orchids, farming, weather, flying, my dogs and cats, or any other thing that comes to mind. Have I become a blogger? Who cares?
I have stories about losing orchids and fruit trees in summer heat, a hurricane, and freezes. Hurricane Andrew and Hurricane Charley both blew through my life. I have owned lots of powerboats and sailboats and kayaks, and have plenty of stories about fishing, diving, spearfishing, cruising, sailboat racing, paddling, getting hit by thunderstorms, dragging anchors, getting struck by lightning, securing your boat for a hurricane, boat drinks, and many more joys of boating.
When I was young, my parents bought me a little AM/FM/Weather radio, and I had it for years and years. I may still have it, somewhere. I don't think it has ever been used to listen to AM or FM stations, but I used it for weather all the time. Now I sell new sailboats and all kinds of used boats for a living, and when I come home I'm messing about with plants or my own boats much of the time.
Everything I do is heavily influenced by the weather, and I watch it all the time through my favorite internet weather links. I have learned the hard way just how much cold various tropical fruit species can tolerate, and also learned that tropical trees aren't built to carry an ice load. I learned that the way to get a blue Calanthe orchid flower is to leave a white one outside in a freeze. I learned that an orchid greenhouse is no match for a hurricane, and that you kind of take shade for granted, until a hurricane blows every bit of it away.
Orchid Photos and Calanthe Care
Please visit my orchid picture gallery and enjoy some photos of orchids that I have collected over the years. You might also want to check out my page on the care of calanthe orchids.