The Life Cycle of a Tray of Calanthe Orchids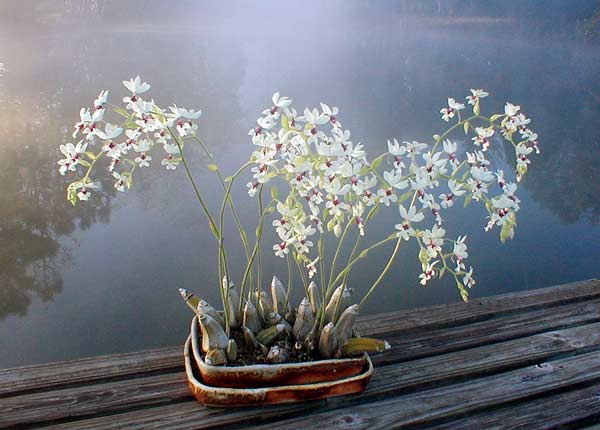 Above is a colony of Calanthe vestitas that I grew in a tray made by my brother. According to Jay Pfahl's Orchid Species Encyclopedia, the particular kind is Calanthe vestita Lindley var rubro-oculata.
The pot at left has a blooming Calanthe rosea orchid.

The Calanthe vestita colony tray above started with 8 bulbs in the spring.

By the time this picture was taken in early October, the leaves were starting to turn brown...

...but a look underneath reveals that flower spikes are starting to emerge

In this picture, in early fall, the last leaves have died or been trimmed off, and the flower spikes are getting long enough to start showing flowers soon. For growing tips and a look behind the scenes at how I grow them, please visit my Calanthe Care page
---

A fellow orchid enthusiast sent me these Calanthe orchid pictures (below), hoping I could identify the species, but I don't know what it is. If you know, please contact me with the answer. She reports the blooms to be more than 1" tall and 1" wide, and the single flower spike had 11 blossoms. Please email me at tom@websitesbytom.com if you can clue us in.

Update: A correspondent named Alvin believes the mystery orchid is a Calanthe vestita var regnieri.

Click any images above for a larger view.